Click on the pix for larger images to open!
See News for the latest on what is up with the band and where they are playing!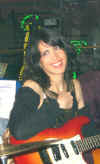 Every FIRST Saturday at Rosie's with Annette Shepherd
That's at 7th and Bakewell in Covington, KY in the heart of MainStrauss Village!
Sometimes Paul with Alice sometimes on the THIRD Saturday of every month at Rosie's, otherwise just around town. Check your entertainment guides or right here!

Come on and join the fun!

Paul Abrahams, Annette Shepherd and C Gilchrist

Annette Shepherd and C Gilchrist

February 14th, 2003: 'Sometimes Paul' at Cocoa's, now a regular monthly gig (10/20/2003)!
Click for the larger image!