Page one of two of the 90's shots. Page Two >

In the early part of the 90s Grxymkjbn!tm enjoyed some modest radio success on three local stations, WNKU, WAIF and WVXU, with the album "GrxymkWHAT?!?". We had fun doing radio interviews and playing live in the stations' studios. We didn't play too many public gigs, but the ones we played were always a hoot.
Grxymkjbn!tm (left to right: me, Paul Abrams, Jay Mattingly and Brett Hubers) playing a local church festival.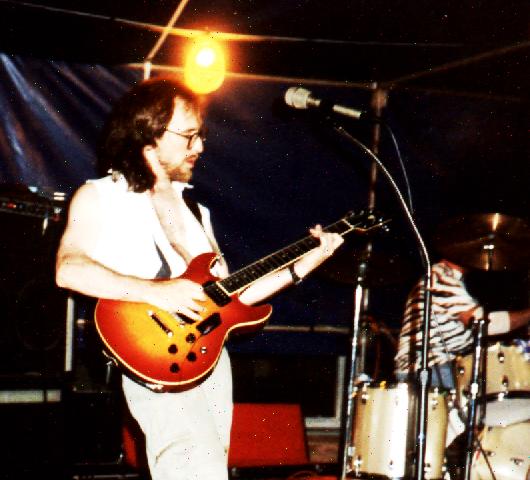 This Fender Esprit is a better substitute (than my Strat) for my poor, destroyed Les Paul... tho really, no guitar could ever replace the 'Paul. *sniff*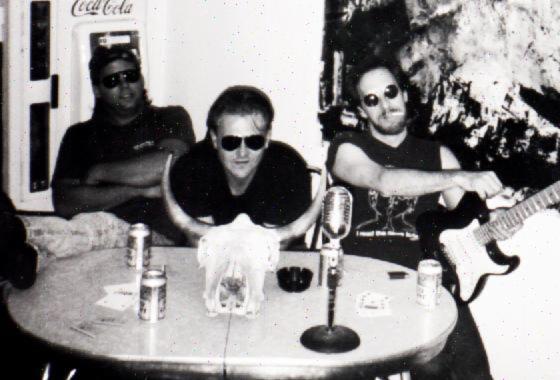 When Grxymkjbn!tm went on hiatus, my brother-in-law John Karch (center) asked me to join his band, Johnny Nuke and the Fallout. I picked up the Strat again for this power trio billed as "the garage guerrillas of rock". No, I didn't write that copy.
From Johnny Nuke to The Pods - early 90's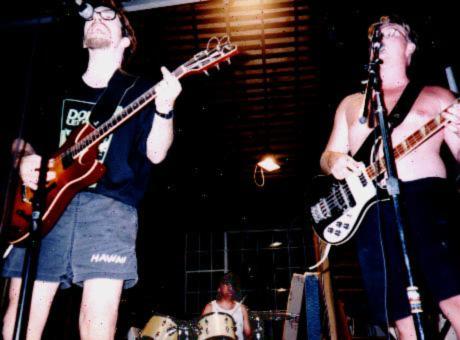 Eventually Paul Abrams replaced The Fallout's drummer and I went back to playing my red Esprit. This shot was taken at a barn party.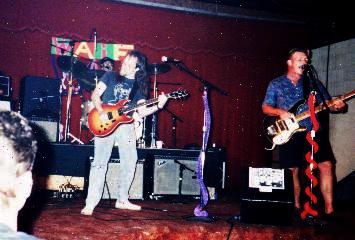 Here's Johnny Nuke and the Fallout in the main ballroom at the Southgate House for a WAIF benefit.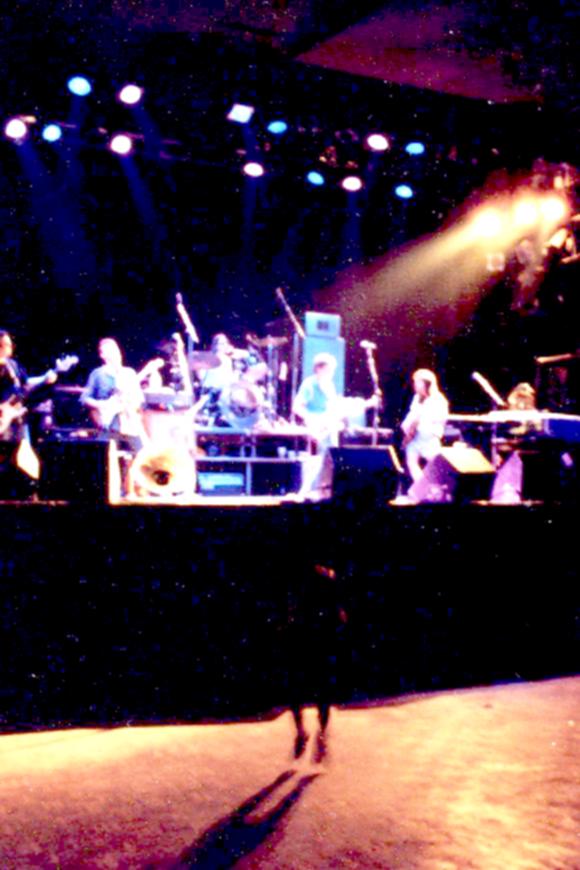 Then came the Pods, in '93 or '94. Despite it's blurriness, this is one of my favorite shots: We're sound checking on Bogart's stage and the photographer snapped my four-year-old daughter in mid-leap in the foreground.

In the mid-90s, The Pods enjoyed modest success, playing their surf/comedy/rootsrock everywhere from the Cincinnati Art Museum to Bogart's to the P&G Pavilion (opening for such luminaries as Joan Jett, Jimmy Messina and NRBQ) with regular airplay on WAIF, WOXY and WNKU. This band was the latest incarnation of a band started over a decade before as "Doc and the Pods".
I recorded three albums for/with The Pods (l to r: Matt Manninan, Paul Dickerson, Bryce Rhude, Marq Friedlander, and C Gilchrist): Egosystem, Podophiles and Pods '95. This is the photo used for the cover of Podophiles.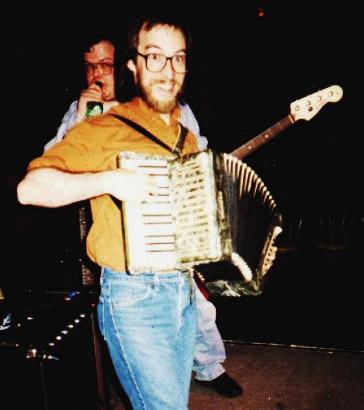 I finally found an instrument the equal of my late, lamented Les Paul... This is Pods live at Top Cats, near UC. That's Paul Dickerson behind me.
new_page_1.htmatter part of '99 and the first 7 months of '00. We often featured guest female vocalists, but this night it was just the two of us.